Aleksandr Beziazykov aka Schoolboy is a Russian armwrestler. He was called a "mutant" because of the incredible victories at a young age in fights with large and adult rivals. He became a popular and respected athlete far beyond his homeland. The question began to arise more and more often is schoolboy the best arm wrestler? Wikipedia doesn't have an answer. But it is in this article.
Biography: Age, Wiki, Family
A young strongman from the Far East of Russia was born on July 22, 2000. In his youth, he followed in the footsteps of his brother Alexei, who is 10 years older than him. By the age of 18, Aleksandr overtook Alexei in height and practically caught up in success in the field of arm wrestling. The entire biography of the Beziazykov brothers is connected with this sport. On the net, they are known by the nickname Toproll, which, according to Wikipedia-like resources, means the basic technique of arm wrestling called Top Roll according to the professional slang. It is under this common pseudonym that the guys' accounts on Instagram appear.
Family relationships are more than strong. Alexander often posts joint pictures with his brother, his wife and mother Irina. Unfortunately, in 2019, the mother passed away. The day after Sasha's name day, he published a selection of photos with her, under which a mass of sympathetic comments from grieving subscribers gathered.
In 2018, the armwrestler graduated from school in the city of Arsenyev, where he was born and lived until he entered big-time sports. In the news feeds of Primorye, the name of the young arm wrestler often appeared, since he participated in most competitions and competitions in the region – he won prizes along with adults. Following his brother, he often left his native city and the nearest Vladivostok for the USA and China.
Aleksandr Beziazykov's Career: Is He the Best Arm Wrestler?
Initially, Aleksandr was engaged in athletics, and he became interested in hand wrestling after the age of 16. He approaches work seriously: he follows the regime, proper nutrition, training schedule. Judging by the content on his Instagram and VK, the arm-wrestling star is not interested in anything else. He is constantly on the road and new fights.
World fame and the nickname "schoolboy" came in 2018, when impressive videos appeared on the ARMWRESTLING TV YouTube channel. In the video, Aleksandr called for a battle at the hands of literally passer-by Americans on the streets of New York. The defiant headline "Who will beat the schoolboy?" made a name for the arm-wrestler from Russia, who is now known as "schoolboy". The nickname remained with the guy even after graduation.
Some episodes, where a "schoolboy" defeats amateurs and professionals in arm wrestling in a New York park, have collected more than 26 million views. This project brought popularity to Beziazykov Jr. Now such big armwrestlers as Devon Larratt and Toddzilla have responded to his challenge. The ARMWRESTLING TV VK group contains videos of all Alexander's fights, and there is also an interesting video about the athlete's evolution from the very beginning of the armwrestler's biography.
Aleksandr Beziazykov (Schoolboy) Net Worth
Armwrestling is not a sport that makes millions of dollars, but Aleksandr Schoolboy was able to capitalize on his talent enough. Its net worth is estimated by analysts from 200 to 300 thousand dollars.
Schoolboy now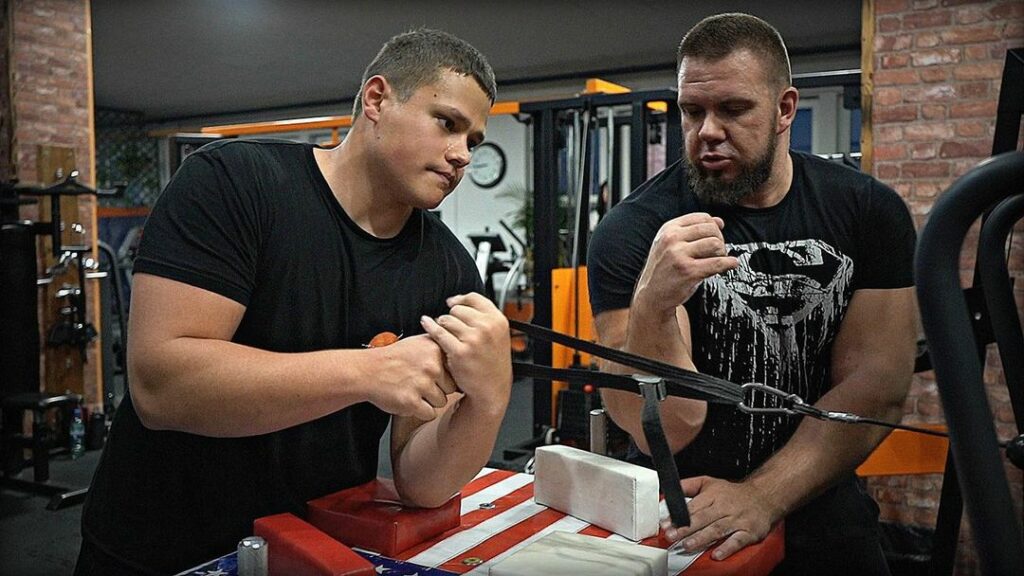 In 2022, Schoolboy continues to amaze spectators and competitors with its skill. He travels a lot in America – Miami, Ohio and other cities. Everywhere Toproll Jr. fights with eminent armwrestlers. One of the latest Instagram posts shows respect for the armwrestling legend Devon Larratt, with whom Alexander is pictured.